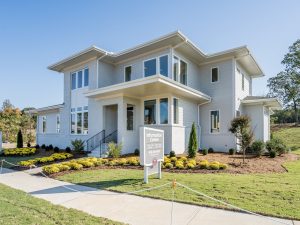 Pittsboro's The Vineyards at Chatham Park Information Center is open! Prewitt Custom Homes is proud to be the select builder of this modern take on prairie-style architecture. Details include a sleek white kitchen, a staircase with windows that wash the foyer and family room with light, and a linear fireplace flanked by French doors to the covered porch, which has its own outdoor fireplace.
Click here for a virtual tour.
Located at 235 Cottage Way, visit Monday–Saturday, 10:00 am–5:00 pm or Sunday, 1:00 pm–5:00 pm. For details, call (919) 278-7687.
Prewitt Custom Homes is also pleased to currently offer a custom home opportunity underway at 177 Cottage Way in this exciting community. Plus, coming soon is 89 Cottage Way.
Learn more by visiting PrewittCustomHomes.com.
Social Share