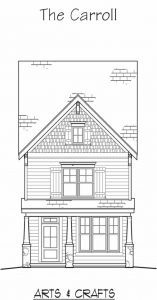 The team at Charleston Traditions at Bowling Green proudly announces a Parade entry for the 2020 Raleigh-Wake County Parade of Homes will soon be underway at 1609 Main Divide Drive.
Prewitt Custom Homes will present the Carroll Arts and Crafts plan at this annual event. With 1,928 sq ft, 3 bedrooms, and 2.5 baths, this home will feature an open concept design connecting the family room, kitchen, and dining areas. Enjoy a private courtyard with a covered porch and the convenience of a covered breezeway leading to a 2-car garage.
The 2020 Parade of Homes is scheduled for September 26-27, October 2-4, and October 9-11. The Parade is an annual, free tour that is open to the public.
For full details, call 919-737-4155. Visit Charleston Traditions on the web at BowlingGreenWakeForest.com.
Social Share