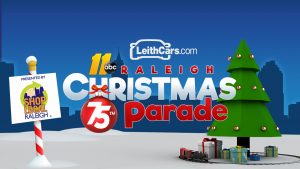 It's that time of the year when holiday celebrations are getting underway. Mark the start of the season with the 75th annual Raleigh Christmas Parade!
Join the fun this Saturday, November 23 either in-person along the streets of Downtown Raleigh or by tuning in to ABC11 from your couch. Live coverage begins at 9:00 am, and the parade starts at 9:30 am beginning on Hillsborough Street at St. Mary's Street and proceeding to the State Capitol.
For details, click here.
Social Share