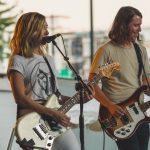 Market Street at Southern Village in Chapel Hill is presenting two free outdoor summer concert series!
Sunday shows take place 6:00 PM – 8:00 PM, from May 6 – September 15. (There's a Monday show in there too!)
And in June and July, there's also a Friday evening concert series. Concerts take place at 7:00 PM, except for June 14, which starts at 8:00 PM.
Social Share